If you are surfing on social media, you see a strange device that looks like a toy that can control anything! What is flipper zero? in this article, I will tell you all about this fantastic device's advantages and disadvantages so let's start.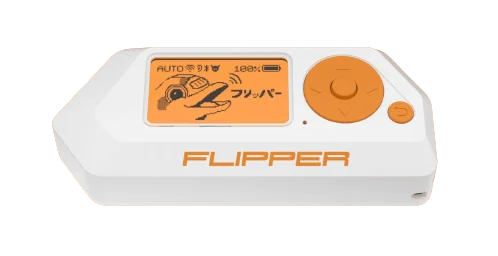 1. What is flipper zero?
Flipper Zero is a portable multi-tool gadget that has gained popularity among cybersecurity professionals and hobbyists alike. The device has been designed to support the exploration and reverse engineering of various electronic devices, including smartphones, smart home devices, and access control systems, among others. Its open-source design and user-friendly interface have made it a go-to device for those who wish to explore the world of hacking.
2. Features and Capabilities
The Flipper Zero is a compact device that comes with a wide range of features and capabilities. Some of its notable features include:
RFID Scanning: The device has a built-in RFID scanner that can detect and read information from various RFID-enabled cards and tags, including access cards and public transport cards.
Signal Analysis: Flipper Zero can analyze and decode various wireless signals, including Bluetooth, Wi-Fi, and NFC. This feature allows users to detect and monitor wireless signals in real time.
Network Monitoring: The device comes with a network monitoring tool that allows users to scan and analyze nearby networks. This tool can be used to detect and identify potential security vulnerabilities in wireless networks.
Infrared Remote Control: Flipper Zero can be used as an infrared remote control for various electronic devices, including televisions, air conditioners, and home theater systems.
Integrated Debugger: The device has an integrated debugger that allows users to debug and modify the code of various electronic devices. This feature is particularly useful for reverse engineering and exploring the functionality of various devices.
As you see that flipper Zero is a full-range multipurpose tool where wireless signals are everywhere with this tool you can make a lot of things and cause chaos in general
3. What tech side behind the Flipper zero in detail 
As we said flipper zero is a multi-tool electronic gadget this is some tech information about it: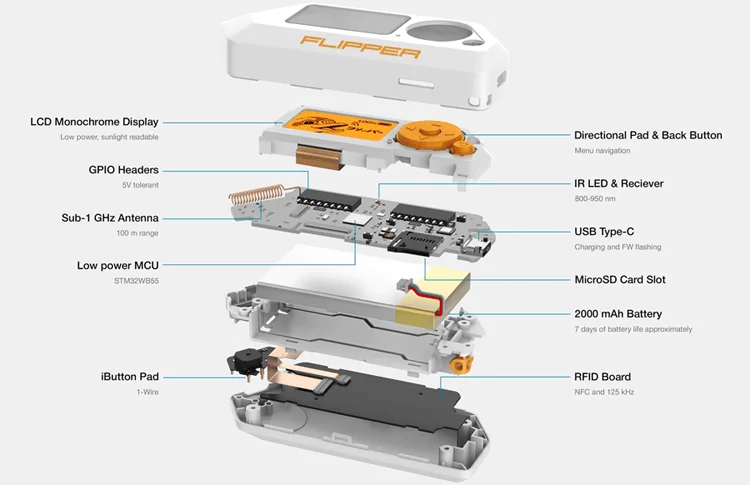 Display: It comes with a 1.4-inch monochrome LCD display with a resolution of 128×64 px also it has ultra-low power and is readable under sunlight.
Buttons: The Flipper Zero comes with a 5-button directional pad for the menu and navigation with an exit or back button it had a led status for notification.
Microcontroller unit: The flipper zero comes with an application processor ARM Cortex-M4 32 bit and 64 MHz and a network processor ARM Cortex-M0 +32 MHz.
Memory: it comes with a flash of 1024kb and SRAM 256 The Flipper Zero has an SC card slot that can be used up to 64 GB.
Battery: it's powered by a researchable LiPo battery 2000 mA.h with a 7-day of battery life approximately.
Sub-1 GHz module: it comes with a powerful transmitter module powered by a CC1101 chip with a 433 Mhz antenna, that can be used up to 50 meters range (frequency band may change depending on the region with 315Mhz,433Mhz,868Mhz, and 915Mhz.)
NFC: yes flipper zero comes with an NFC module with 13.56 Mhz and 125Khz a module to the device works with low and high-frequency ranges the device is supported by all standard major NFC.
RFID: it comes with an RFID unit with a frequency of 125 kHz and modulation of AM, PSK fSK flipper zero support cards EM(400x,410x420x) and HID prox, and INdala.
Hardware Exploration: It comes with a GPIO slot that can be used for debugging, and firmware flashing or updating you can use this slot to connect your devices and run your own code also you can use the USB and other adapters for this job.
Bluetooth: it comes with Bluetooth 5 that has a data rate of up to 2 Mbps.
Notification: for notification, the flipper zero has a buzzer with a frequency range of 100-2500 hz and a vibrator motor with a force value of 30n and speed of 13500 rpm.
Infrared: This device has an infrared transmitter that allows the user to control or copy any device such as TVs, air conditioners, and more the transmitter range is 800-950nm with a power of 300Mw.
i-button: flipper zero come with I button reader DS1990A touch memory contact key this old-school tech has 1 wire protocol that can reader or writer even can emulate the signal and store them and use these key later.
USB: it comes with a USB type c port that is used for charging and digital stuff.
These are the main tech parts behind the Flipper Zero what consist of and what can do!
4. Can you consider that flipper zero a security threat?
You can consider that it may be a security threat if it is found in the wrong hands it is not inherently dangerous. It's a learning tool that has been designed to look like cybersecurity with all the tech that consists of and how its works.
5. Is Flipper Zero legal?
Even though the device is legal flipper zero reported on their main social media that Us customs and border patrol seized their shipment in September 2022 the device should not be used to tamper with devices and systems without users' permission.
6. Advantages of Flipper Zero
Versatility: One of the most significant advantages of the Flipper Zero is its versatility. The device comes with a wide range of tools and features that allow its users to perform a variety of hacking operations, including RFID scanning, signal analysis, and network monitoring, among others. This versatility makes Flipper Zero a handy tool for both security professionals and hobbyists who wish to explore the world of hacking.
Open-Source: Flipper Zero is an open-source device, meaning that its design and code are freely available to the public. This openness allows developers to create their own apps and features, which can be shared with other users. Additionally, users can modify the device to suit their specific needs or preferences.
User-Friendly Interface: The Flipper Zero has a user-friendly interface, which makes it easy for users to navigate and access its various features. The device comes with an OLED display that provides real-time feedback, making it easier for users to keep track of their progress.
Compact Design: The Flipper Zero is compact and lightweight, making it easy to carry around. This portability makes it an excellent tool for on-the-go hacking operations.
7. Disadvantages of Flipper Zero
Limited Battery Life: One of the most significant disadvantages of Flipper Zero is its limited battery life. The device's battery can last for up to 5 hours, which can be a hindrance for extended hacking sessions.
Limited Wireless Range: The Flipper Zero has a limited wireless range, which can make it challenging to use in certain scenarios. For instance, the device may not be able to detect wireless signals from long distances, which can be a limitation in some hacking operations.
Steep Learning Curve: The Flipper Zero has a steep learning curve, which may be challenging for beginners. The device comes with a wide range of tools and features, which can be overwhelming for users who are not familiar with hacking tools and techniques.
8. The Alternatives to Flipper Zero
you can consider Flipper Zero a hacking gadget but it has some limitations, you can find some alternative products that can be used as flipper zero and that's some of them:
Rubber Ducky: It's a hack USB called  Rubber Ducky that can perform attacks and run ducky scripts.
OMG cable: These cables are modified versions of traditional USB cables and are designed to look and function like regular cables. However, they contain hidden hardware that can allow hackers to gain access to a user's computer or device remotely you can see the full article about the omg cable.
ChameleonMini: is a portable tool that runs for NFC security analysis.

Raspberry Pi:

Raspberry Pi can be set up as an NFC signal reader.
Conclusion
The Flipper Zero is a versatile hacking gadget that offers a range of features and tools for exploring and reverse engineering electronic devices. Its open-source design, user-friendly interface, and compact design make it an excellent tool for both professional hackers and hobbyists. However, the device's limited battery life, wireless range, and steep learning curve are some of the significant drawbacks that potential users should consider before purchasing the device.
finally, I hope my article adds some valuable information to you. if you have any questions let me know in the comment below.