Do you have some personal information that needs secure storage or to be kept in a safe place? What do you know about onedrive personal vault? In this article, I will talk about this cool new feature from Microsoft so let's go.
One drive personal vault can be found with windows 10 and 11 and it's a part of the main OneDrive Cloud storage you can save all your sensitive data as pictures or bills even your documents any kind of media this vault is secured and protected.
Microsoft personal vault is a secure and protected area from Microsoft that is a part of one drive cloud storage, only you can access this storage it's protected with a 2-way authentication method when you need to access your storage you will need a code that will be sent by SMS or email even your fingerprint.
When you are accessing this vault from your computer you will have an extra layer of protection by incorrupt your files using windows bit locker this storage or part of the storage can't be accessible if you lost your computer also the same data is encrypted on the Microsoft cloud services.
One of the advantages of the personal vault is the automatic lockout after a certain time which means if you are inactive it will close after 20 minutes and when you want to log in again you may need a re-authentication prosses to access your personal vault again
the personal vault is a great cloud service from Microsoft that competes with other online cloud services such as google drive and Dropbox apple iCloud drive and more …
1. One drive on a smartphone
One drive is also available for your smartphone you can save your document on this personal vault keep in mind that the personal vault is available on Windows 10 devices including the one drive app that can be used on android and iPhone. 
2. how to use the personal vault in windows?
to use personal vault on windows you need to open the Onedrive application by clicking on the cloud icon on the taskbar then clicking on the gear icon ⚙ then pressing unlock the personal vault.  The first time you open the personal vault new windows will appear allowing you to set the 2 way authentication for your Microsoft account then you need to type a pin or use your fingerprint.
You may be interested in : How to increase pc performance
when you confirm your Microsoft account the personal vault is activated you can access this folder from Windows using File Explorer or clicking on personal Vault to put your files in a secure place.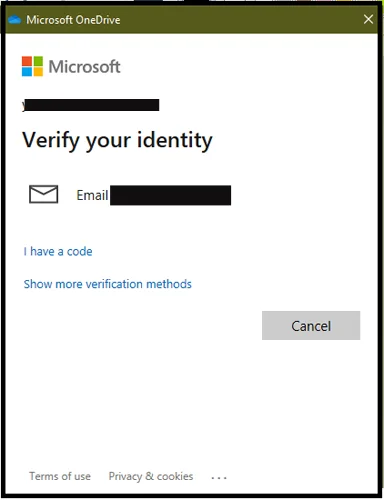 3. how to know that your files are synced?
when you add files to the personal vault you need to wait to sync on the service you will see a green ✔ near each file name when sync is complete plz keep in your mind that the vault closes automatically after 20 minutes of inactivity.
the Conclusion
this service from Microsoft is a good solution to protect your personal data from being stolen your photos or bells even anything you need to protect you can store about 1TB of data if you get a premium account I advise you to activate the personal vault and keep your personal data safe.
Finally, I hope my article added some valuable information to you. If you have some questions? Let me know in the comments below. I'll try my best to answer them.