How to restore the deleted files? I know you were searching for that on Google, you have a USB memory card or any hard drive or SSD that has some important files and needs to restore don't worry I will give you the full answer in the article so let's start.
If you have a mobile or computer you can recover deleted files so keep calm we will start with mobile.
1. How to Restore the deleted files Android?
That is too easy if you lost your photos or videos accidentally or from a virus, I will tell you about an excellent program that helps you to Restore deleted files Android it is called disk digger photo recovery when you download it from the play store just press search for lost photos to restore the photos and search or lost videos to search for the videos also you can select the wipe option to wipe the data to gave you free space.
2. How to restore deleted files Windows 10?
Now we come to Windows, so how do we restore deleted files Windows 10? these steps work with any window os even Mac os I will explain several steps so you can try them.
3. Where can I find deleted files?
Normally When you delete a file or a folder on Windows or Mac, they are moved to the Recycle Bin or Trash folder. These folders act as a safety net, allowing you to recover files that you might have accidentally deleted. To restore a file from the Recycle Bin, simply click on the recycle bin icon and open it then find the file you want to restore, right-click on it, and choose to Restore this will restore the file to its original location before deleted, but some times the file that you are missing is not in recycle bin so what can we do to recover it? 
4. Can you recover deleted files after emptying the recycle bin?
Sure You can, But there are some characteristics that must be available to insure that you can recover your lost files and folders, the deleted files remain in the hard drive (trash bin) for a period of time after that windows will overwrite the old data with new ones, so the first step is stop using the affected device to ensure that you have a big chance to recovering the lost data you want by using one of the following software that recovers deleted files.
5. How do I recover permanently deleted files?
When you want to recover permanently deleted files we want to use some applications that are the Big boss in data recovery that can recover and restore the deleted data these applications that we will use can Restore deleted files free they can be used as file recovery – restore files software so let's start to know more about them
5.1 Recuva
When you want to Recover deleted files Recuva is one of the software you can use it has free and paid versions it can recover any file from any USB stick to an external or internal hard disk I advise you to try this cool application.

5.2 EaseUS
you are asking where I find the best program to recover deleted files. If the file/folder is permanently deleted from your pc and you need them I think it's time to find a good application that can recover the lost data EaseUS is one of the best software in town you can download it by clicking the link below don't worry this app help you to Recover deleted files so keep calm and continue with me.
5.3 Tenorshare 4DDIG
If you want a program that can manage and recover all deleted data you can download this app on your desktop its one of the best file recovery applications, I advise you to try the Tenorshare 4DDIG program which is able to recover all data from any smartphone, or flash memory. So if your device lost data or suddenly factory reset you must use this program to recover your content.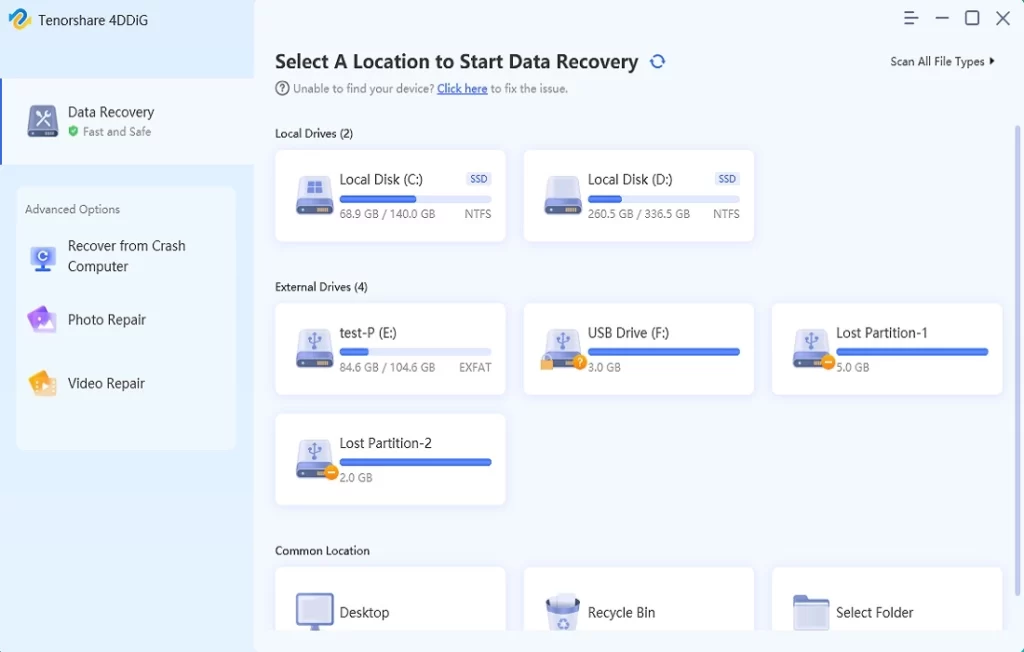 After downloading and installing click its icon to run the software to recover your missing data.
Select the local disk that you want to recover media from it then click recover or you can select a type of media in the upper right corner and then select scan after scanning you can select the items you want and recover them.
For more info, you can see the helping link in tenor share. 
5.4 Disk Drill
This is another cool software that allows you to recover your lost files and folders it can recover from external drives, flash drives, digital cameras, and memory cards and also can support android and ios devices.
Disk Drill can recover photos, videos, raw images, music, and document You can download the application through the button below.
In some cases, you might not be able to recover deleted files using the above methods. If the files are critical and irreplaceable, you may want to consider contacting a professional data recovery service. These services use advanced techniques to recover deleted files and can often retrieve data that is otherwise lost. However, these services can be expensive, so be sure to weigh the cost against the importance of the deleted files.
the Conclusion
Deleting important files can be a frustrating experience, but it doesn't have to be a disaster. By using the above tips and acting quickly, you can often restore deleted files and avoid the stress and hassle of losing important information. Remember to always back up your files regularly to avoid losing important data in the future.
Finally, I hope my article added some valuable information to you. If you have some questions? Let me know in the comments below. I'll try my best to answer them.