The biggest problem that you may encounter as a video game lover is FPS Drops and the strength of your Internet connection, Ping, and it constitutes you the worst experience in the gaming world, and let's focus on the first problem, which you can actually solve. 10 In its updates to improve the user experience, especially for video game lovers, does activating windows game mode really improve your experience and give you an increase in frame rate?
1. what is Windows game mode
When you activate Game Mode on your device, all it will do is reduce the consumption of Windows services and programs that run in the background for the resources of your device from the processor and graphics card to the RAM and disk, which leaves room for your game to fully exploit as much as possible from your device and also gives you a fixed number of frames Fps Rate and thus smoothness And more fun to play.
2. How to activate Game Mode?
 In most cases, if you have a copy of Windows 10 or 11, you will find the mode is activated automatically, and to verify all you have to do to activate the mode is: Go to Settings, then the Gaming option

and then choose Game Mode in the Xbox game menu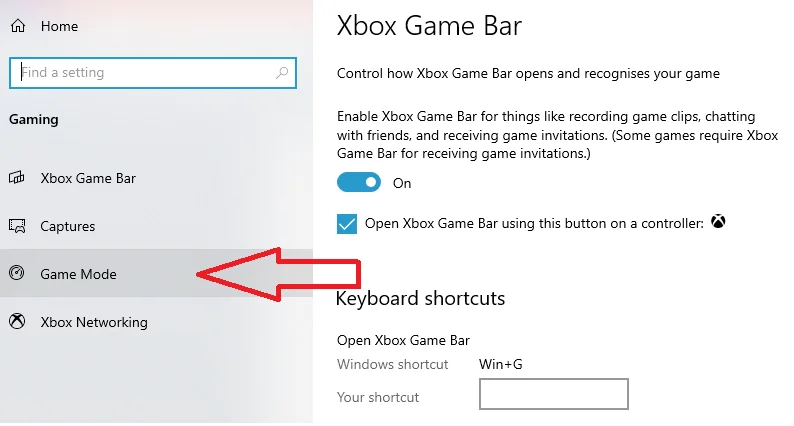 then activate it
Now that Game Mode is activated, you may be wondering, will I really get a huge improvement in the number of frames and a better experience? If your device is of the weak category, which is mostly for office and design programs, then yes you will notice a clear difference in the number of frames when you play medium and strong games such as Call of Duty: Warzone and Red Dead Redemption 2. But if your device is specifically for games and has powerful resources,
a fast processor in executing operations, and a graphics card with a strong architecture, you will notice a slight difference in performance on medium and large games like Elden Ring, and therefore the drop in the number of frames may be due to other reasons such as Windows updates or graphics card definitions and others on Depending on your device.
Conclusion
It is worth noting that the Game Mode is not compatible with all games. You may find a difference between the performance of some games after activating the mode, and in some games, you may not notice any difference due to the fact that the games were not developed from the same engine and the same method, and each game has its requirements and capabilities to exploit the device's resources. In the end, Game Mode is designed to increase the performance of your device in playing games to its maximum capabilities. All you have to do is activate it, whether your device is strong, medium, or weak, and enjoy a better number of frames, thus improving your gaming experience.
Finally, I hope my article added some valuable information to you. IF you have some questions? Let me know in the comments below. I'll try my best to answer them.