What is RDP? Its Remote Desktop Protocol (RDP) is a proprietary network protocol that enables the transmission of graphical user interface (GUI) data from one computer to another. Microsoft originally developed it for use with the Windows operating system, but a wide range of operating systems, including Linux, macOS, iOS, and Android now uses it.
this article was updated in 7/1/2023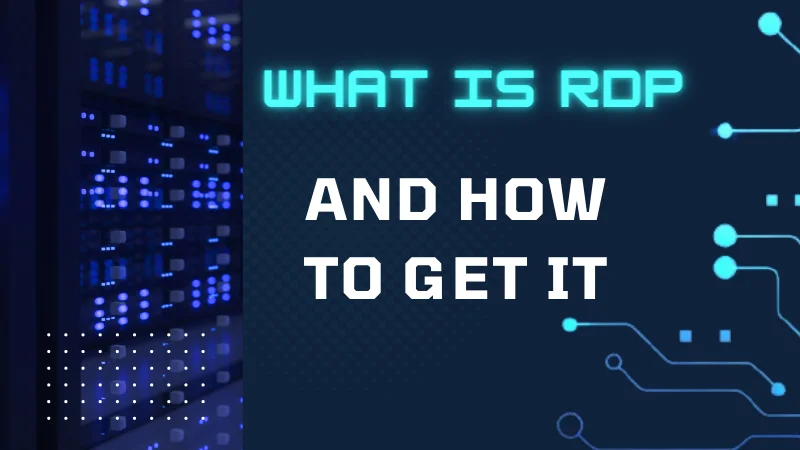 RDP allows a user to remotely connect to and control another computer over a network connection. It is often used by businesses and organizations to provide remote access to their networks and systems for employees, contractors, and partners. For example, a user might use RDP to access their office computer from home or to access a server in a data center.
1. How to use remote desktop protocol?
To use RDP, a user needs to have an RDP client software installed on their local computer. The client software establishes a connection to an RDP server, which is a software component that is installed on the remote computer. Once the connection is established, the client software sends input and display commands to the server, and the server responds by sending back the GUI data for the remote computer. The client software then renders this data and displays it to the user, giving the impression that the user is interacting with the remote computer directly.
Type Remote Desktop Connection near the Start menu (type here to search)then click open
Type the IP of the RDP that you reserved from the company in the Computer field, and in the User name field, type the user name, usually Administrator, then click Connect, then it will ask you for the password, type it to enter directly into the RDP you purchased, All this information will be sent to you in an e-mail from the company from which you purchased the RDP.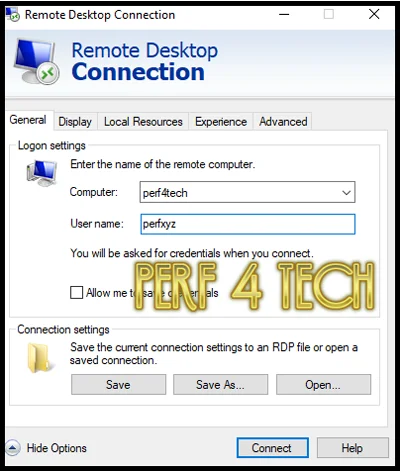 2. Is it secure to use?
RDP is often used in conjunction with virtual private network (VPN) technology, which provides a secure and encrypted connection between the client and server. This is important because RDP transmissions can potentially be intercepted and compromised if they are sent over an unsecured network connection.
3. What are the main benefits?
One of the main benefits of RDP is that it allows users to access and control a remote computer as if they were sitting in front of it. This is particularly useful for users who need to access resources or applications that are only available on a remote computer. RDP also enables users to remotely troubleshoot and repair problems on a remote computer, which can be a time-saving and cost-effective solution for IT professionals.
4. What about security features?
RDP has a number of security features built into it, including support for various authentication methods, such as passwords and smart cards. It also has the ability to encrypt data transmissions using various encryption algorithms, including Advanced Encryption Standard (AES) and Secure Sockets Layer (SSL). However, despite these security features, RDP can still be vulnerable to certain types of attacks, such as brute force attacks and man-in-the-middle attacks.
5. Difference between RDP and VPS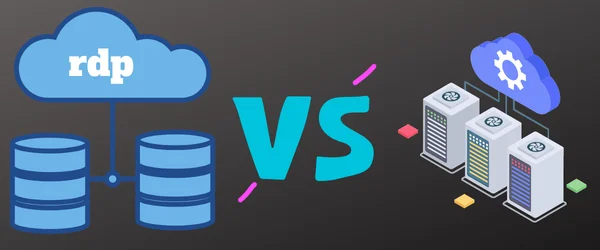 There are many differences between them, especially in the mechanism of work for each of them, and in the following, we will learn about the most prominent of these differences in order to be able to choose the best for you in your work.
RDP is the most powerful by performing many tasks so we can say that it is an integrated computer that helps you complete a large number of tasks that you would not be able to complete on your computer
You may be interested in: What is private DNS mode?
As for VPS, it is a hosting plan or service that helps you put some simple files or scripts, and there are several things that may not need the same power as RDP, so you cannot get a free RDP very easily.
6. How to buy RDP service easily?
The remote desktop protocol RDP can be purchased through several sites that offer you this wonderful feature, and we will provide you with the most prominent of these sites in the following.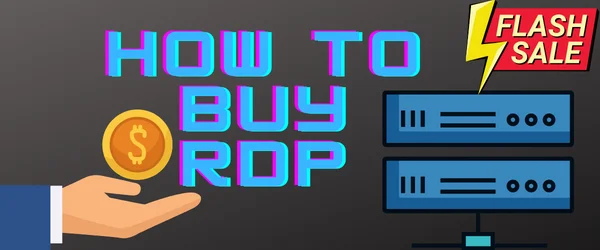 But we mentioned that there is RDP for free, but it will not be powerful and it will be limited to a predetermined time, and this is because it is a trial period for you to purchase after that, so follow me to be able to buy RDP from trusted platforms.
VPS SERVER
One of the most popular RDP sites that can be relied upon in the process of obtaining a strong and distinguished RDP, as well as the best prices in this field. And it allows you to get RDP for a trial period of up to seven full days to be able to get acquainted with all the advantages to be able to take the appropriate readers by purchasing Remote Desktop Protocol and you are reassured of mind from this platform.
Amazing RDP
This platform Amazing RDP, which is famous for selling the Remote desktop protocol, offers you advantages that are very similar to the previous two platforms. So that this platform helps you to get a customized RDP for you at a very reasonable and acceptable price with the possibility of getting a small trial period, but of course, you will not get all the capabilities of RDP until after you buy it, as is the case in the two previous platforms
Mono VM RDP
It helps you get a very special RDP and offers you many packages that you can choose from and it comes with Microsoft systems.  i think you can choose  Mono VM RDP, You will be able to get RDP from this platform at the most acceptable prices that you will like, and will be one of the most important motives for purchasing RDP through this distinguished platform, which allows you to use Remote desktop protocol for a trial period to be able to test the quality of the servers.
The conclusion
Remote Desktop Protocol is a widely used network protocol that enables users to remotely connect to and control another computer over a network connection. It is often used by businesses and organizations to provide remote access to their networks and systems, and it is an important tool for IT professionals who need to remotely troubleshoot and repair problems on a remote computer.
Finally, I hope my article added some valuable information to you. If you have some questions? Let me know in the comments below. I'll try my best to answer them.