A domain name is very important when you are planning to create a successful website, this name represents your identity of a website in the future that can affect many factors as attracting users, in this article I will give you the best idea about how to choose domain name in the correct way so let's start.
1. What is a domain name?
When you want to connect to any website the computer establishes a connection through a unique number called ip each website has a different ip so if you want to connect to Google for example you must type the ip the domain is the name used to make it easier for the users so instead of typing the ip just type the website name.
2. How to choose domain name?
When you are preparing to work online the domain name is so important you can follow me in this guide that will help you get the best domain for your work.
3. How can a unique domain name affect your site?
Choosing a unique website name is of great importance, as the name can be the first impression a visitor receives about your site and contribute to attracting and maintaining users. Here are a few reasons why choosing a unique and attractive website name is important.
A catchy website name helps you stand out from the competition and makes your website look unique in the minds of visitors. If you have a great name, people will easily remember your site and be ready to come back again.
The website name should be easy to pronounce and write so that people can easily share it with others. When they quickly remember the name of your site, they can point to it and recommend others to visit it.
Your website name can be a part of your brand and contribute to enhancing it. If the name of the site expresses the character and vision of the brand well, it will remain etched in people's minds and enhance the recognition of the site in the future.
The name of the site can be used to reflect intelligence, innovation, and recent trends. Choosing a name that reflects a vision of the future or alludes to technology or creativity can appeal to target audiences who embrace these values.
The name of the site may contribute to informing visitors of the primary purpose of your site. If the name expresses the content or service provided by the site, it can provide initial visibility to visitors and attract people looking for this type of content.
Furthermore, it is important to check how the desired website name is available as a Domain Name and to ensure that it is not already in use. You can use online domain lookup tools to check this out.
4. Can we choose a domain name using AI?
We are in the era of artificial intelligence where we depend on it to choose the best domain name you can use ChatGbt to generate domains you can use this great Chrome extension AIPRM that gave your more than normal chatgbt prompts, where we want to use the domain name generator that give us more than 100 unique domain name.

then click on it and type the desired domain name and chatgbt will promote 100 unique name as in the picture.
5. Domains names that depend on the purpose of the website.
There are many types of website names that can be used depending on the nature and purpose of the website. Here are some common types of website names:
Regular names: Include direct and clear names that reflect the content or services offered such as  TechCrunch.com
Creative names: These include innovative and distinctive names that attract attention and reflect the distinctive personality of the site such as

pixelexplorer.com

.
Short names: It is characterized by short names that are easy to memorize and write. Names like these are useful for easy promotion and sharing such as scme.com
geographical names: It is used to indicate the geographic location of a site, such as the names of countries or cities such as Canada online.
Industry-related names: Used to describe the industry associated with the site, such as

TechRadar.com

Names inspired by letters: Use letters or letter arrangements creatively, such as

abc.com

Brand names: Used to use a brand or company name as part of the site name, such as

google.com

or

facebook.com
Remember that you should choose a name that is easy to remember and type, and that reflects well the identity and content of the site. It must also be ensured that the chosen name is available and that it does not violate trademark rights or suspect other domain names.
6. What are the available extensions for the domain?
You can use any extensions for your domain for example if your website is perf4tech you can choose (.com or .app even .xyz) There is a lot of extinction you can see them from this link.
7. Get the best price for your domain name
now I assume that you have decided what is the best domain name for your job and you want to buy it. you can use Domcomp to check the domain's arability and compare what is the best price you will get, also you can use this website if you want to renew your domain or transfer from one hosting company to another.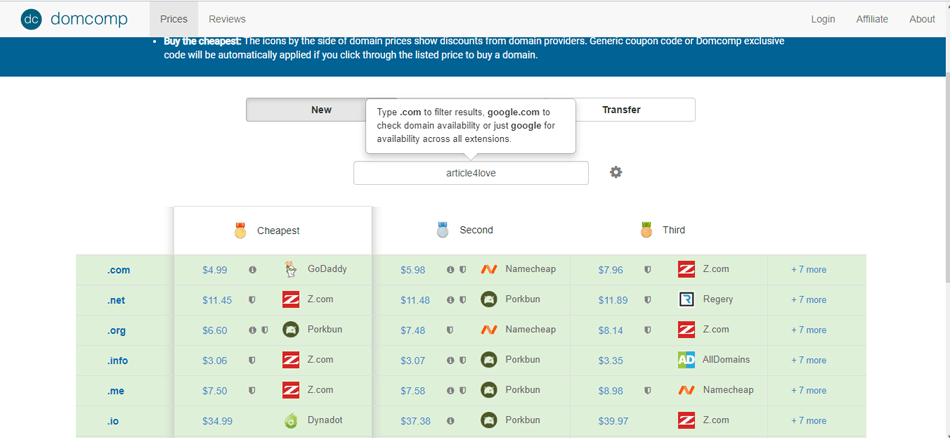 8. Can I change my website name in the future?
Yes, you can change your site name in the future if you need to. However, you should be careful and consider the impact of the change on the site's search engine ranking and on visitors and existence, there are some steps that must be done before changing your website:
Before you change the name of the site, you must let your users know. Send notifications and updates via email or social media explaining upcoming changes and identifying new names.
You must set up redirects from the old name to the new name of the site. This will ensure that old users and old links are not lost and continue to function properly.
Any links within the site, including menus, internal content, and internal links, must be updated to refer to the new name instead of the old one.
The keyword and SEO strategy of the site should be updated to include the new name. This will help the new website appear correctly in search engine results.
You must communicate with partners and other sites. If you have partners or collaborations with other sites, also inform them of the name change to ensure links and references are up to date.
9. Should my website name be related to my business?
Yes, preferably if your site name is related to your business. When you have a website name that reflects your activity or services, it makes it easier for potential customers to identify the type of services you provide and it is more strategic in attracting a target audience. The most important step in choosing the name of your site, you must take into account the general concept of your business and the crops or services that you provide.
You can use keywords related to your business in the site name or use creative words that express your business identity. Moreover, it is also preferable to choose a site name that is easy to memorize and write and is not too similar to other similar sites. This can help build the digital identity of your business and boost your brand recognition.
The task of choosing a suitable website name may take some time and thought. You can consult your friends or co-workers for additional opinions and ideas. You can also search online for examples of domain names related to your business to get inspiration and new ideas.
Conclusion
Choosing the right domain name can affect your online business so the best idea is to consider your brand and target audience before you start that can affect widely on SEO factors, visibility, credibility, and success in the digital realm.
Finally, I hope my article added some valuable information to you. If you have some questions? Let me know in the comments below. I'll try my best to answer them.