What's The Difference Between Antivirus And Internet Security and How do choose the best protection software? Everyone had a computer and wants good protection software, But our need for protection programs may be different, each program has its own protection characteristics, do not worry, I will explain all the differences and after this explanation, you will be able to determine the right program for you.
1. What's The Difference Between Antivirus And Internet Security?
you can choose from the following protection application and they are as follow:
1. Kaspersky Antivirus
 It is used by ordinary users. who doesn't need to be connected to the Internet permanently? It can be downloaded from the official website or from a flash drive in general. It is a program that does not need the resources of the device. It protects you from light viruses, such as "auto-run" viruses and "shorts-cut", but it is not effective for strong viruses such as ransomware.
Real-time antivirus and anti-phishing, light on the system used by ordinary people
2. Kaspersky Internet Security
Internet Security is intended for people who connect to the Internet permanently and is used by those who download files and programs from the Internet, in addition to people who use credit cards to purchase products through online stores. Internet Security protects your device from spyware, ransomware, and malicious programs. It's more than antivirus and has more
features such as real-time protection anti-phishing, and performance optimization. It contains an ad blocker and a smart and fast VPN.  Also contains payment protection when you are buying for stores or websites and has private browsing and webcam protection. also blocking immoral content in addition to the content control service by parents and screen time managers or programs.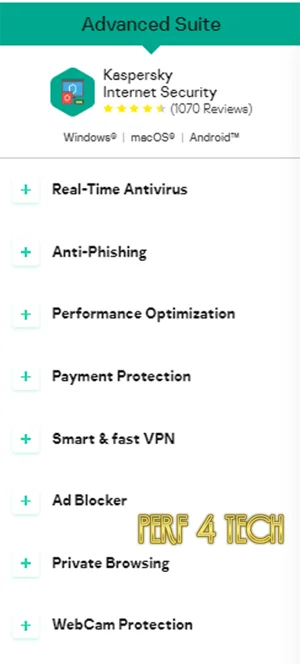 3. Kaspersky total security
It's more than internet security and has more features such as Real-time antivirus -Anti-phishing -Improving your system's performance Protection- Smart and fast VPN- Ad Blocker -Private Browsing -Webcam Protection, Block Adult Content Screen Time Manager-Private Browsing – Webcam Protection – Adult Content Blocking – Screen Time Manager – GPS – Child Location Protection – Password Manager
4. Firewall in all types of Kaspersky
a firewall protects you from hacker attacks that try to penetrate your computer and plant viruses inside it. Currently, it is integrated with protection programs such as Antivirus and Internet Security. It is also integrated into Windows in Windows Defender.
5. Antispyware as a program 
It is a program integrated with security programs designed to protect you from spyware and some malicious programs that may infect your computer. All Internet Security programs contain the program. It is possible to download Antispyware for free on this link. If I tell you that this program is the best, do not believe me for a good reason that the protection programs are different.  And each person has his own opinion. You will know what is best for you through experience.
also, you can use an online virus scanner if you have any files before downloading you can try a virus total scanner or you can learn more about online virus scanners from this article.
Note: Always remember to use the latest version of the program, update the database and not download cracked copies or activate the program with a crack because illegal, and the company that owns the program will discover that this may prevent you from updates or technical support.
 Conclusion
Many protection programs are similar and differ in some characteristics. For example, the Kaspersky program, from a personal experience, did not let me down. It is the best program in my opinion. It is the best program. If you go to the official website to compare its different versions, you will find 3 different versions of the program as shown in the following image, in order from the weakest to the strongest.
The main difference between the protection programs is as follows:
If you are a regular user your device resources are weak and you are not connected to the Internet, I always advise you to use an antivirus
If you are always connected to the Internet and browsing and buying from websites and the Internet, you need an integrated program, I advise you to Internet security
If you want full protection software, you should use Total Security, but in my opinion, is that Internet Security protects your device in a good way.
Finally, I hope my article added some valuable information to you. IF you have some questions? Let me know in the comments below. I'll try my best to answer them.