Every person depends on a memory card to save his important information, regardless of the type of user device, SD Express is the latest generation of memory card technology soon a new card called SD 9 or SD 9.1 I think its time to Double your memory card speed with SD 9.1, let's know more about this new tech.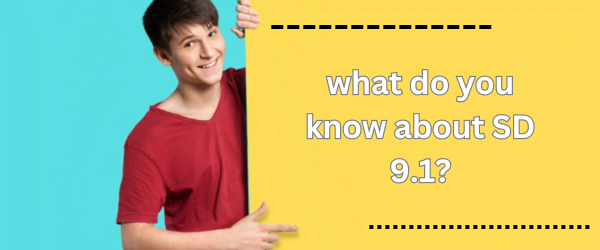 Double your memory card speed with SD 9.1
1. What's New in SD 9.1?
SD 9.1 cards introduce a number of new features and improvements, including the following :
The SD 9.1 Specification brings significant advancements in storage performance for high-performance electronic devices.
SD Express introduces transfer speeds up to 4GB/sec using PCIe and NVMe architectures.
The microSD Express memory card speed is doubled to 2GB/s with a PCIe Gen4 interface.
New SD Express Speed Classes 150, 300, 450, and 600 are introduced, offering minimum data transfer rates for various applications.
These Speed Classes help consumers choose the right card for their devices and provide an optimal experience.
Implementing SD Express may require a hardware update of the host SD interface.
Multi-stream recording is supported, allowing the recording of multiple data streams while maintaining sequential performance.
Power and Thermal Management features ensure faster recording speeds and prevent heat-related issues.
The SD Association is committed to evolving SD Express features and standards for consumer and industrial products.
SD cards are new tech they are great for data transfer with high speed and improved reliability for more information you can see the full specifications on the SD Association website.
2. previous generation of SD card
Previously, high-end SD cards used PCIe Gen3 and reached speeds of 985 MBps or less. The new SD 9.1 spec now employs PCIe Gen4, achieving speeds up to 1.9 Gbps, ideal for 8K videos, games, and data transfers, providing a noticeable speed boost even for everyday users.
Increased speed can lead to higher heat, which may require throttling to cool down SD cards. Throttling temporarily reduces transfer speed, ensuring card safety but potentially disrupting ongoing recordings or file transfers. The SD 9.1 spec addresses this with new power management and thermal enhancements, allowing host devices like cameras and game consoles to regulate the SD card's internal temperature.
if you are interested you can see this article about SD card life span.
3. Applications for SD 9.1 Cards
The new SD card is ideal for recording high-resolution video such as 8k or 10k also you can use it in photography with high-definition photos in raw images don't forget the gaming purpose where you can use high-end games on a portable gaming console such as PCs that depend on high-speed sd cards.
4. Some technical information about SD 9.1
Notably, SD 9.1 also enhances the reliability of multi-stream recording. While the details might seem a bit intricate, the key takeaway is that SD 9.1 excels in efficiently managing concurrent recording from multiple cameras or other sources. If you require in-depth information on this subject, you can delve into the SD 9.1 white paper.
In conjunction with the introduction of SD 9.1, the SD Association is introducing four new speed classes for existing SD Express card formats. These speed classes, namely SD Express Speed Class 150, Speed Class 300, Speed Class 450, and Speed Class 600, simplify the process of identifying and selecting an SD card. Each speed class is denoted by a number representing the transfer speed in megabytes per second. These cards will bear a distinctive pill-shaped icon featuring the letter "E" alongside the respective speed class numeral.
It's important to note that the launch date for the new SD 9.1 specification has not been confirmed. Keep in mind that a host device must support the SD 9.1 specification to take full advantage of the speed, thermal, and power enhancements. For further insights, you can refer to the SD 9.1 white paper or explore the SD Association's blog.
5. When Will SD 9.1 Cards Be Available?
SD 9.1 cards are expected to be available in early 2024.
6. How to Choose the Right SD 9.1 Card
When choosing an SD 9.1 card, there are a few factors to keep in mind:
Speed class:

SD 9.1 cards will be available in a variety of speed classes, so it's important to choose a card that is fast enough for your needs. If you're shooting high-resolution video or playing demanding games, you'll need a card with a high-speed class.
Capacity: SD 9.1 cards will be available in a variety of capacities, from 128GB to 1TB. Choose a card that has enough capacity to store all of your data.
Brand: There are a number of different brands that make SD 9.1 cards. Choose a card from a reputable brand to ensure quality and reliability.
Conclusion
SD 9.1 cards represent the next generation of memory card technology. With their faster speeds, better power management, and support for multi-stream recording, SD 9.1 cards are ideal for demanding applications such as high-resolution video recording, professional photography, and gaming.
Finally, I hope my article added some valuable information to you. If you have some questions? Let me know in the comments below. I'll try my best to answer them.